2nd Annual Rescue Brew Beer Label Contest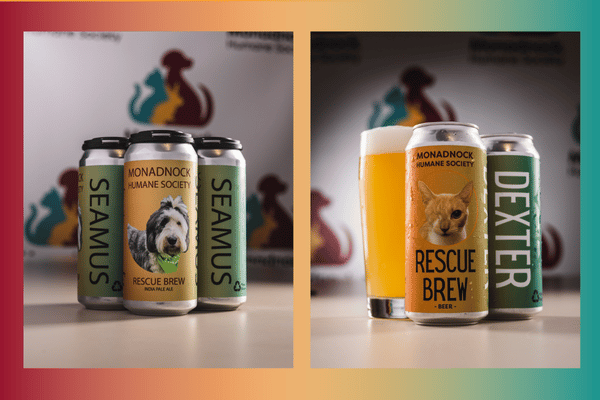 2023 RESCUE BREW BEER CONTEST
VOTE EARLY AND VOTE OFTEN!
Nominate Your Pet and Vote for your favorite cats and dogs starting April 1st through April 30th.
Monadnock Humane Society and Branch and Blade Brewing Company have once again joined forces to celebrate dogs and cats, and the people who love them, with our second annual Rescue Brew contest!
A BIG CONGRATULATIONS TO OUR 2022 WINNERS, SEAMUS AND DEXTER.
This summer, images of one winning dog and one winning cat will appear on the 2023 Rescue Brew beer. The Rescue Brew is a limited small batch production by Branch and Blade Brewing Company.
The 2023 MHS Rescue Brew Contest is Open Now. Nominate your pet and start voting April 1st! Submit a photo of your pet and a $10 donation to Monadnock Humane Society and tell us why your dog or cat is the perfect Spokespet for rescued pets everywhere! Then encourage your family, friends – everyone you know- to vote!  Polls close  at 9:00 PM (Eastern Time) on Sunday, April 30, 2023.  The cost of each vote  is a $1 donation to Monadnock Humane Society.
THE DOG AND CAT WITH THE MOST VOTES WILL AUTOMATICALLY WIN AND WILL APPEAR ON THE 2023 RESCUE BREW LABELS. IN THE CASE OF A TIE-BREAKER, THREE MHS SELECTED JUDGES WILL CHOOSE THE WINNER. 
More info at https://www.gogophotocontest.com/mhsrescuebrew