Fundraisers
The 34th Annual MHS Walk for Animals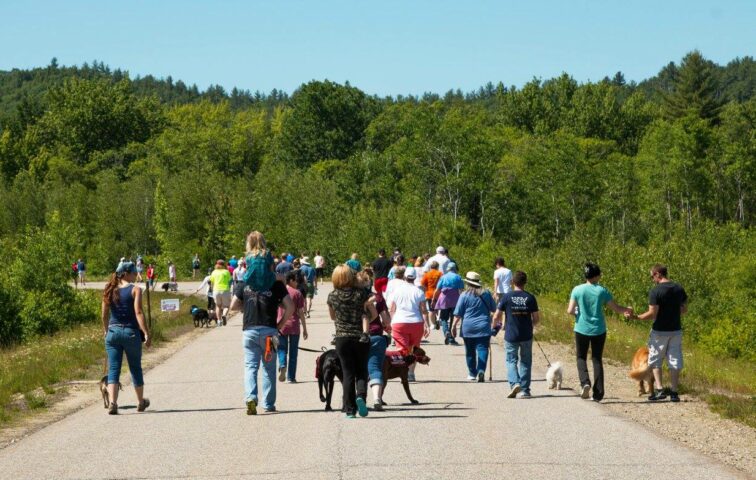 Don't miss out on the best walk you'll take all year! The Walk for Animals is on Saturday, June 25th and we hope you'll join us at the Dilliant-Hopkins Airport for fun with family, friends and of course, your furry companions! We will have a full day of activities for the whole family. Gates open at 8:30 AM and the Walk starts at 10:00 AM.
By participating in this event, you will unite with a community of animal lovers who are committed to making a lifesaving difference for over 1,700 homeless pets this year. This is your opportunity to help create a more humane Monadnock Region while enjoying this unforgettable event!
Event registration is now open and the event is FREE to attend. All participants who raise over $50 will receive a free event t-shirt. Please support this worthy cause, create teams and encourage your network to "sponsor" your walk. Every dollar raised supports our mission of saving animals lives and helps the humans who love them. 
This year we will also be announcing the winners of our first MHS Rescue Brew Beer Label Contest at the walk and for the adults, there will be a beet tent where you can sample the delicious beers from our friends at Branch and Blade Brewery and West LA Beer Company. 
IF YOU PREFER TO "WALK FROM HOME" PLEASE CONSIDER HELPING US RAISE THESE VITAL FUNDS TO SUPPORT ANIMALS, MAKE A DONATION TODAY OR ASK YOUR FAMILY, FRIENDS AND NEIGHBORS TO SUPPORT THE WALK!
Visit https://givebutter.com/WalkforAnimals for more details.
MEET OUR WONDERFUL VENDORS
Monadnock Therapy Pets
Fromm Family Foods
Wellnesspet
Cozzzy Together
Fabrics By Finn
BP by Bethany
Amazing Grace Animal Sanctuary
Paws and Spas Boutique
Woodard's Sugar House
The Cat Groomer
Dogs on Depot- the Woof Wagon
Buddy's A Pet Store
One Stop Country Pet Supply
Oh Sit Dog Training
Happy Cat Creations
Angry Bull Leathers/Dani Renee Portraits
Many thanks to our AMAZING event sponsors who make our mission possible.