The 35th Annual Walk for Animals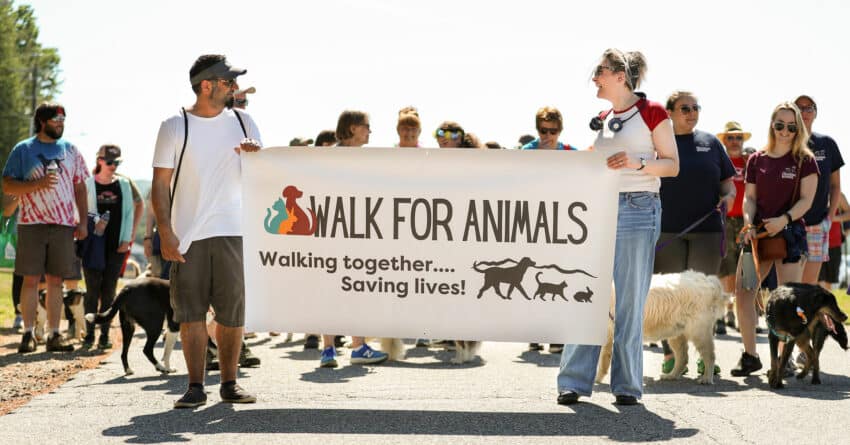 This year's Walk for Animals will once again be held at the Dillant-Hopkins Airport.  There will be something for everyone at this festive event: 
* For the first time, a live band! 
*Our largest Vendor Village featuring local and national business selling just about everything your furry companion could want, and a few things you might need yourself
*A variety of offerings from several outstanding food trucks and local beer in the beer tent
*Creative non-alcoholic Mocktails, including some dog-safe sips for your canine companions
*Chances to win one of our popular Raffle baskets 
*Engaging dog activities and demonstrations
Gates open at 9:00 AM, the walk starts at 10:00 AM, and festivities continue through 2:00 PM. The Walk for Animals is a crowdfunding event. In the weeks leading up to the Walk, animal lovers in the community ask family, friends, coworkers, colleagues – everyone they know – to sponsor them.  All money raised from this event goes directly to the care of the animals at MHS!
Once you've registered, you can begin to fundraise online at www.mhswalkforanimals.com or download and print a Walk sponsor form from the site. If you can't participate but would like to support the Walk for Animals, please visit www.mhswalkforanimals.com to donate. 
Our mission here at Monadnock Humane Society is to strengthen the animal-human bond by promoting and providing for the well-being of animals. This is 100% funded by the generosity of people within the communities we support. Contrary to what many mistakenly believe, MHS receives NO FUNDING for our shelter operations when you donate to national animal welfare organizations such as ASPCA andThe Humane Society of the United States. Nor do we receive funding from any national, state or local government agency.
Proceeds from Walk for Animals go towards the MHS mission and make vital lifesaving differences for thousands of shelter animals each year, and supports the people who love them. Your support makes it possible to provide pets in need with safe shelter, medical care, rescue and rehabilitation, boarding and daycare, training services, a pet food pantry, Animal Safety Net program, and most importantly, loving forever homes. 
Text the word "together" to (325) 603-3395 now and help us start raising funds to support our vital work.
CLICK HERE TO LEARN ABOUT SPONSORSHIP OPPORTUNITIES
Many thanks to our sponsors!