The staff at the Monadnock Humane Society Boarding and Daycare facility bring years of animal care experience and professional training to their work with your pets. They regularly attend industry conferences and educational program to stay current on the best practices in animal care, behavior modification techniques, and animal psychology.
The MHS Boarding and Daycare facility has won many community awards over the past decade including the Monadnock Shopper News "Best of Monadnock", the Keene Sentinel's "Choice Awards", the Monadnock Broadcasting Group's "Keene's Best", and the Dog Guru's "Dog Daycare Games.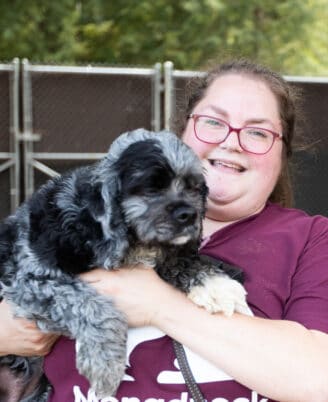 Bethany King, Manager
Bethany has been with  Monadnock Humane Society since 2017 and has been the Boarding and Daycare manager since the fall of 2020. She came to the Monadnock Humane Society with over ten years of dog training experience and earned her certification through the Certification Council for Professional Dog Trainers. Bethany is passionate about safe and enriching off leash play for dogs and works to improve our daycare environment and program daily.  She leads her team with innovation and compassion, and oversees all aspects of the Boarding/Dog Daycare/Puppy Play School divisions. Bethany shares her home with two dogs of her own and a parrot.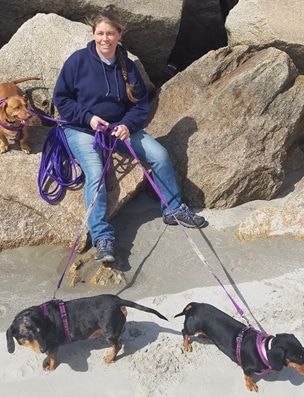 Denisha Lawrence, Assistant Manager
In her role as the Assistant Manager, Denisha helps to oversee the daily care and activities of the dogs attending daycare, and of the animals that come to board with us while their owners are away. She will help to comfort a nervous dog for nail trims, helps to introduce new dogs into play groups, works with the play groups by practicing recall, group sits, and waiting at the gate/door, and helps to "wash off the fun" from daycare's fur clients. When pet parents come to pick up their fur kids, she continues to work with the dogs to wait at the door, will communicate about how the day (or stay) went, if there are any concerns, or share a funny story or picture with them.
Denisha believes that every animal has a voice. She has a unique understanding of animal communication and is passionate about developing relationships with the animals that she cares for. She is committed to providing enrichment and a structured environment to the play groups to strengthen and enhance the animal-human bond.
In her free time, Denisha can sometimes be found following her first love, riding and training horses. She also enjoys playing in her gardens, camping, and riding her motorcycle. Denisha has been married 15+ years to a retired Army veteran, and shares their home with their 3 pups. She has 1 adult son, 2 adult daughters, 3 granddaughters and 1 grandson, and spends as much time as she can with them.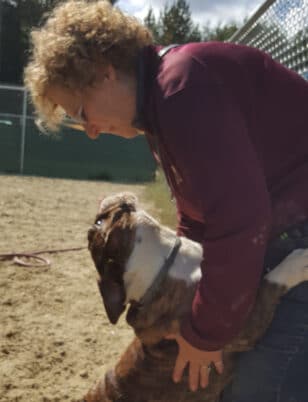 Deb Watson, Senior Boarding/Daycare Technician
Deb has years of experience caring for a variety of animals. Her career has included animal health care as a veterinary technician and improving animal welfare as a visiting pet groomer. She is certified in Pet First Aid & CPR, in addition to being a trained dog care professional. Deb is also a professional pet groomer and does all of the grooming for the MHS pet grooming division.
Interested in Pet Boarding at MHS?
Contact us for more information and a staff member will get back to you shortly.