Careers
Love animals and looking to join a dynamic team? This job's for you!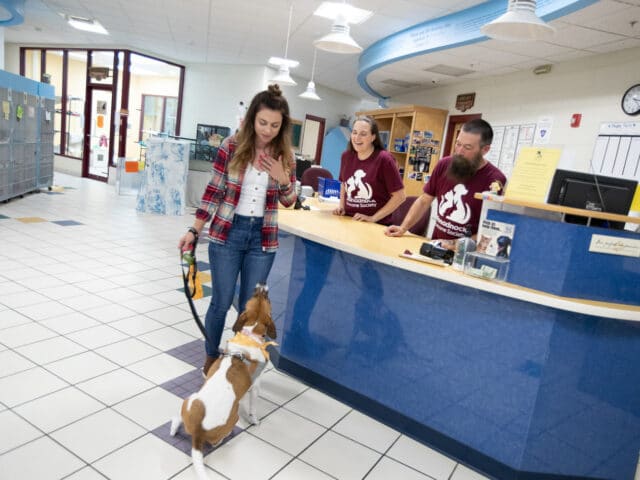 Job Opportunities
Our Foster Homes are a vital part of our organization. MHS relies on Foster Homes to provide a safe, secure environment for many of our animals that is significantly less stressful than the shelter. This is especially important for animals who are dealing with a medical issue and need to recover. This also keeps shelter space free for animals that are available for adoption or for the shelter to take in other animals on an emergency basis.
For animals that will be available for adoption, the foster home's insight into the animal's personality traits, special needs, behavioral and health issues as well as how the animal interacts with people and other animals is vital. This animal information allows us to choose the best home for each pet and provides potential adopters with the opportunity to choose the best pet for their home.
Some animals stay longer than a few months, and we advise that you take this into consideration when deciding if you would like to participate in our foster program.
Monadnock Humane Society will provide all necessary supplies for the pets in foster care.
MHS Board & Committee Members
Join the Board of Directors at one of the region's most celebrated and consistently recognized non-profit organizations. Monadnock Humane Society (MHS) is a 146-year-old animal welfare organization in Swanzey, NH serving 44 cities and towns in the region. We are a 501(c)(3) organization dedicated to our mission to "strengthen the animal-human bond by promoting and providing for the well-being of animals." We have a long-standing and superb reputation for community involvement by caring for and placing homeless animals with loving families, offering low-cost spay/neuter and rabies clinics, a pet food pantry, an Animal Safety Net program, Boarding, Daycare, and Dog Training to enhance the lives of companion pets and their owners. A strong Board of Directors will ensure this mission continues for many more years to come.
If you're interested in making a difference as a member of the Monadnock Humane Society Board of Directors, email boardchair@humanecommunity.org asking for more information. We also welcome community members to join one of our committees before becoming a board member.
---