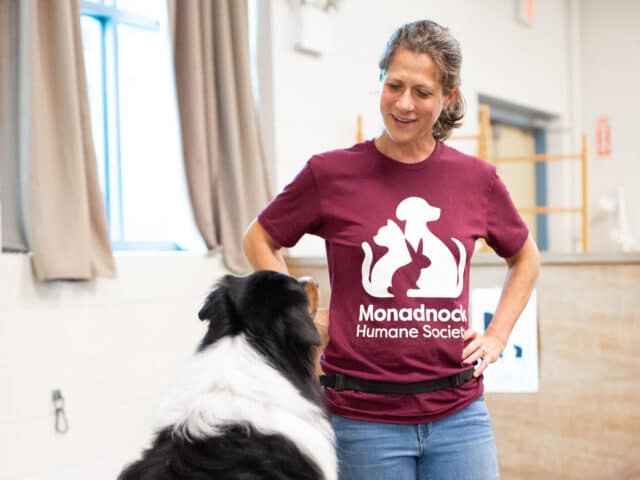 We proudly offer reward-based and humane training styles to teach your dog to be polite and well-mannered. All classes and private lessons are innovative, fun and effective.
At the Monadnock Humane Society Training Center we offer a wide selection of dog training classes. Our classes range from basic training such as Puppy Kindergarten and Everyday Canine Essentials to intermediate classes such as Focused Fido and Canine Good
Citizen. We also provide competition level Obedience, Agility and Rally Obedience, as well as Therapy Dog Training and support. Specialty classes and one hour clinics are frequently available to provide additional training guidance and introduce you and your furry friend to new class offerings.
Our class curriculum is focused on teaching your dog the necessary life skills and obedience behaviors through the use of positive, reward-based training methods. Using proven humane training solutions creates a strong human-canine relationship.
All of our training classes are available through online registration.
Why Choose MHS Dog Training?
Our qualified, certified, and award-winning professional trainers are here to help. We believe a well-trained dog is a well-behaved dog and is more likely to participate in family fun and activities. The majority of dogs surrendered to shelters across the nation are unwanted because they simply lack basic manners. Teaching your dog to sit, lay down, walk nicely on leash, greet others properly, stay, settle and come when called are the basic manners any canine good citizen should know. Our classes teach you and your dog the basics that start you both on a lifetime journey of mutual respect, understanding, and happiness.