Public Pet Health Clinics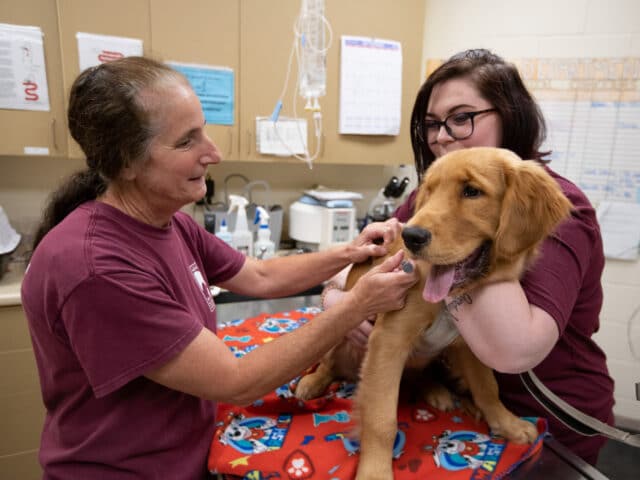 MHS Low-Cost Vaccination Clinic
Are you a low-income pet owner living in the Monadnock Region of New Hampshire? MHS now offers low-cost vaccination clinics at our Adoption Center in Swanzey, NH.
The MHS Vaccination Clinics are dedicated to helping cover some of the costs by providing access to the vaccinations your pet needs not only for your safety but the health of your pet. MHS also offers Exams, Microchipping, Minimal Diagnostics, and Preventatives through the vaccination clinic. MHS has a full-time licensed veterinarian who will be administering all vaccines.
Schedule Your Pet's Appointment Today!
When: Clinics are held every Wednesday morning with appointment times from 9-12pm.
Where: Vaccination Clinics will be held at the MHS Adoption Center in Swanzey, NH in our Community Room.
Cost: The MHS Vaccination Clinic is designed to be affordable to you and offers a number of services. Pricing listed below.
How to Schedule: Please schedule your appointment through the button below.
Eligibility: MHS Vaccination Clinics are offered to those in our community who are currently receiving state, federal, or financial aid. Proof of financial aid is required at the time of service. We will accept housing agreements, community kitchen help, heating assistance, food stamps, or other documents (we will discuss this in greater detail when scheduling an appointment with you).
Pricing
NOTE: We have programs for those in our community who are struggling financially. Please schedule your appointment and let us know if you are unable to afford the costs listed below and we will work with you, offering additional discounts, based on your needs and situation.
Cats
| | |
| --- | --- |
| Exam Fee | $40 |
| Microchip | $20 |
| Feline Distemper | $15 |
| Felv Test | $25 |
| Feline Felv/FIV Combo | $35 |
| Fecal | $15 |
| Feline Revolution Plus | $15/dose |
Dogs
| | |
| --- | --- |
| Exam Fee | $40 |
| Microchip | $20 |
| Canine Distemper | $15 |
| Feline and K9 Rabies | $15 |
| K9 Bordatella | $15 |
| Lyme | $25 |
| Lepto | $25 |
| HW Test | $15 |
| Heartguard | $10/dose |
| Simparica | $15/dose |
| Revolution | $15/dose |
| Fecal | $15 |
| 4DX | $30 |