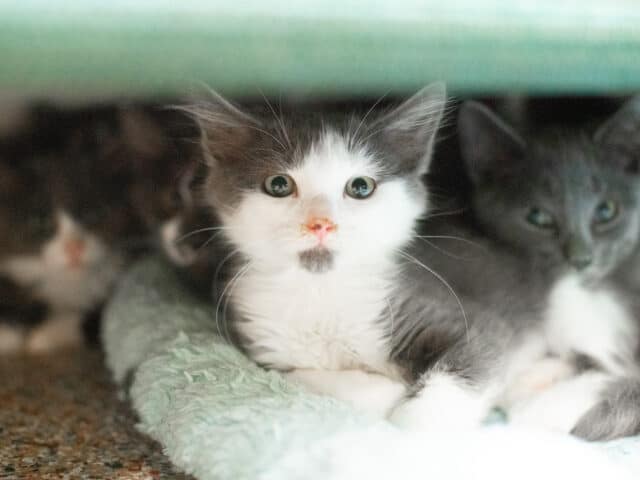 Public Feline Spay/Neuter Clinics
Altering your cat not only enhances your pet's health and contentment, it can reduce the cost of pet ownership. Cats brought to our clinic are given a basic exam, after which they are spayed (females) or neutered (males) and given distemper complex and rabies vaccines as appropriate. Cats will also have their ears cleaned, nails trimmed, and coats checked for fleas.
The cost is $75 for male cats and $100 for female cats. This includes flea and ear mite treatment for all cats. Microchips are available for an additional $10 per cat (clinic only). This clinic is open to all healthy cats, including:
Kittens at least 8 weeks of age
Feral cats
Cats in heat
Pregnant cats
Please Note:
WE ARE NOW ACCEPTING NEW APPOINTMENTS
We have spay/neuter clinics every Thursday. If you would like to schedule your cat, please click on the link below.
A $25 non-refundable deposit is required to reserve a spot in the clinic. You can register several ways however, we prefer that you register online:
We are also offering Vaccination Boosters, for Existing Patients Only. These appointments are offered every Friday morning for $10 and can be scheduled by clicking here or below. 
Alternate Spay/Neuter Assistance
NH Animal Population Control Program—"State Plan B"
Available to: NH Residents who receive, or are eligible for : Food Stamps; Aid to the Needy Blind; Medicaid; Healthy Kids Gold; Old Age Assistance; AFDC; Supplemental Security Income (SSI); Aid to the Permanently and Totally Disabled.
Costs: $25.00 – Pet owner pays fee directly to the veterinarian. Pre-surgery immunizations are covered up to $30.00.
Procedure: Obtain a Plan B application by calling the Department of Agriculture: (603) 271-3697
NH Spay/Neuter Hotline (Animal Allies)
Available to: NH residents who need financial assistance
Costs: $150 (Female Cats), $100 (Male Cats)
Procedure: Contact the NH Spay/Neuter Hotline www.animalallies.org
Call 603-228-6755 for assistance with low cost spay/neuter appointments for cats
Friends of Animals Program
Available to: Any cat or dog owner regardless of financial need.
Procedure: Call or write for an application:
Tel. 1-800-321-PETS (800-321-7387).
Friends of Animals
PO Box 30054
Hatford, CT 06150
Mail in application with appropriate fee. Upon receipt of certificate, make an appointment with any participating veterinarian. (A list will be sent with your application.)