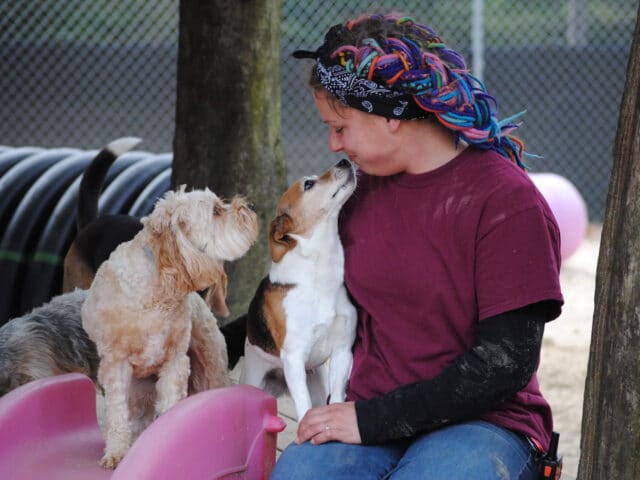 Why Let Your Dog Sit Home Alone When He Could Be Having Fun?
At MHS Dog Daycare, our professional Dog Daycare Staff ensures your dog will have an enriching experience that reinforces good behavior.
At MHS Dog Daycare, your dog will have fun while practicing great dog behaviors. Under the watchful eyes of our fun and fabulous staff, your dog will play and learn and make friends. We'll help them develop social skills with other dogs. We'll keep them out of trouble. We'll save you money by preventing worrisome veterinary visits caused when unsupervised pups get into the garbage.
Daycare Benefits Include:
Provides dogs with a safe, fun, and stimulating social environment while owners are at work or school
Teaches good manners with other dogs and people from the moment the dog enters daycare to pick-up time
Prevents boredom and related behavioral problems
Relieves anxiety of being home alone
A safe environment and positive experience for all dogs
Trained staff actively supervises all dog interactions at all times
DAYCARE IS GREAT FOR… Friendly dogs who really like being with other dogs. Puppies! Pups need lots of positive socialization and interaction with others to become well-mannered adults. We even help with house training!
Dog Daycare Rates
Daycare is great for friendly dogs who really like being with other dogs. Puppies! They need lots of positive socialization and interaction with others to become well-mannered adults.
| | |
| --- | --- |
| One dog, full day | $20 |
| One dog, 1/2 day | $15 |
Keeping Everyone Safe
MHS Dog Daycare offers daycare based on each individual dog's history and behavior. We don't restrict entry based on breed–all breeds are welcome. However, before your dog's first day with us, we'll schedule an in-depth interview including a meet and greet behavioral assessment.
Daycare is a great fit for dogs who play well with other dogs. No dog will be admitted who shows signs of aggression (which may include, but is not limited to snapping, growling, baring teeth, charging or lunging at other dogs, or biting.)
Expect to spend about 20-30 minutes visiting our facility and letting us get to know you and your dog.
Once we've all decided that daycare is a good fit for your dog, we'll work to make sure your pup fits in well. We like to introduce each dog at their own pace. We schedule new dogs for half-days only during their first three (3) visits. We take the time to introduce new dogs to us and to the environment–our play yards and our building–before introducing new daycare friends. Based on our years of experience, we'll decide when it's safe and right to add more friends to the group.
Everyday Safety Rules—Every Dog Matters at MHS!
We closely monitor all play groups!
Our playgroups are kept small! That allows us to reinforce good behaviors, and quickly stop inappropriate play behaviors.
Our playgroups are divided by dog size and play style. Size matters when it comes to safe dog play. Style matters too; our experienced and trained staff knows how to ensure that dogs have fun at MHS.
Dogs love routines. We require at least a one day per week commitment to daycare. This helps your dog remember our rules (and helps us teach them good manners.) Dogs do best when they attend daycare on regular days and are more relaxed when they hang out with their regular friends.
What to Expect from Your MHS Daycare Dog
Dog Tired! The social interaction and physical activity your dog experiences at MHS Dog Daycare is tiring. Expect them to come home and sleep.
Enthusiasm! As your dog gets into the rhythm of their weekly daycare schedule, expect to see increasing eagerness to get in the car and get to daycare.
Wet Coat! (summer time) On hot days, we fill the pools and turn on the sprinklers. Your dog may come home a little damp.
Sore Pads and/or Sore Muscles Some dogs don't know when to stop having fun. As your dog gets used to the increased activity of their new daycare routine, they will get stronger, get more fit, and get tougher pads. In the meantime, if your dog is a little stiff or has an abraded pad after daycare, tell us so we can help your dog moderate their pace.
Happier, Easier-to-Live With Dog! Wagging tails and wiggly bodies tell part of the daycare success story. Daycare dogs behave better and make their owners happier.
Space is limited. Call today to reserve time for your dog!
Monday–Friday 7:00am to 5:45pm
Full Day and Half Day options available. (Any 5 hours is half-day.)
Save with Monthly Pre-paid Discounts or Senior Discount.
(603) 352 9011 ext 105
All proceeds from MHS Daycare go directly to fund the mission of Monadnock Humane Society—fostering a compassionate community by promoting and providing for the well-being of animals.
Dog Daycare Requirements
To ensure the safest environment for your dog, we require that all daycare participants meet the following:
Reservations required
Completed and signed contract and up-to-date Enrollment Form
Proof from Veterinarian dog is up-to-date on vaccinations (Distemper/Parvo, Bordetella and Rabies)
All dogs must be non-aggressive toward people and/or dogs and not food or toy protective
Dogs 7 months or older must be spayed or neutered
Puppies that are at least 4 months of age are accepted if they meet above requirements
DAY-BOARDING IS THE BEST CHOICE FOR… Dogs who have bitten, are aggressive toward others, are fearful, anxious, or avoid other dogs.
Day-Boarding is the best choice for dogs…
Who have bitten
Are aggressive toward others
Are fearful, anxious, or avoid other dogs.