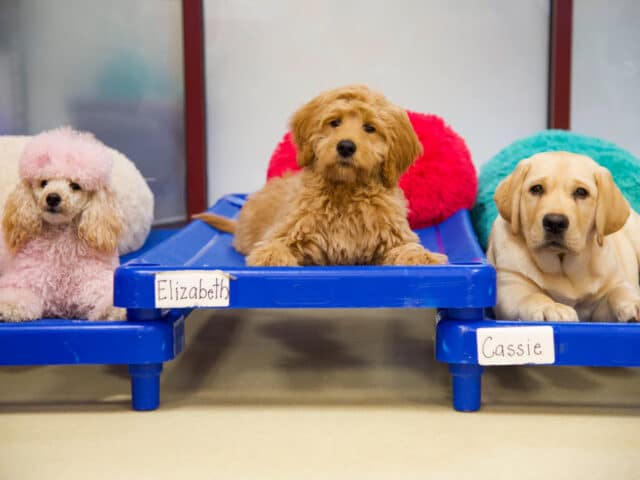 Puppy Play School is an all-day/half-day daycare socialization and training program that runs on Wednesdays and Fridays and is designed specifically for puppies between the ages of 8 weeks – 16 weeks.
What is Puppy Play School all about, and why is it so important?
Puppies learn appropriate play with other puppies and people.
Puppies are positively socialized to different sights, sounds and objects.
Puppies learn good manners such as sitting for petting, come when called, potty training, and more!
What makes Puppy Play School different than other daycare options?
Our Puppy Play School program is run by a Certified Professional Dog Trainer – Knowledge Assessed.
We only use reward-based methods when working with your puppy, avoiding the use of force and intimidation.
Puppies these young do not have all of their vaccines, so we try to minimize the risk to your puppy while in our care. All puppies need to be up to date on age appropriate vaccines and provide a negative fecal before attending. In addition to this, Puppy Play School is held in a separate location from our regular daycare dogs.
Groups are kept small! We do not take more than 10 puppies a day. This ensures each puppy gets some individual time with our trainer.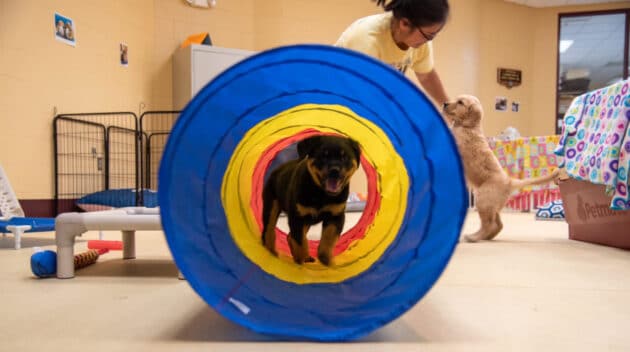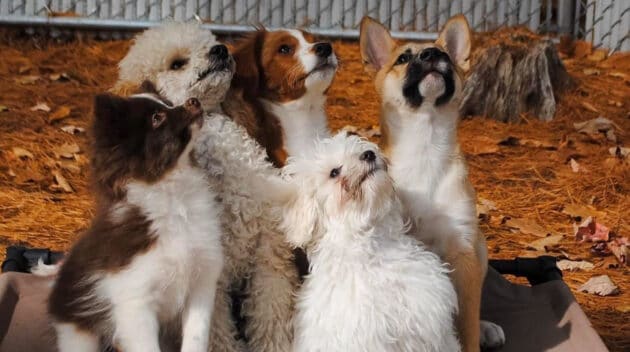 Hours
Wednesdays and Fridays
Full Day: 8:00am* – 4:45pm
Half Day: 8:00am – 12:30pm
*We ask that puppies arrive by 9:30am
Pricing
Full Day: $30
Half Day: $25
Requirements
Completed Puppy Play School Contract and Enrollment forms.
Proof of up to date / age appropriate vaccinations.
Negative fecal from within the last 30 days.
Puppy Perks!  The Polished Puppy at MHS
Puppies enrolled in our Puppy Play School are able to be polished up on any play day they attend (haircuts by appointment only). Simply let us know at drop off what services you would like done!
Bath: $20
Nail Trim: $10
Bath with Nail Trim: $27
Puppy Cut with Bath (by appointment only): $35